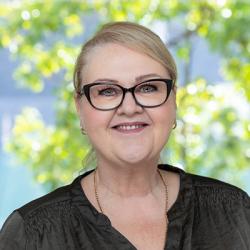 Mandi Newland - Business Manager
Profile
Mandi Newland has worked within the medical industry for more than 20 years, beginning as a receptionist and gaining a wealth of knowledge from various environments including government bodies and General Practice. 
She held the position of Practice Manager for an Adelaide Hills practice for over 9 years, and studied part time gaining a Diploma in Business Management. 
After having a sea change into Sales and Marketing, she has returned to managing medical practices for the past 5 years in a Specialist Field.
Mandi was appointed Business Manager for Dermatology SA in January 2015 
"I love working at Dermatology SA, where the vision of all is to provide not only the best in medical care for our patients, but to ensure their complete experience whilst in our care is exceptional. 
Our Dermatologists are the top in their fields; the nursing staff is not only trained in general medicine, but also specializes in Dermatology Nursing practices and the Administrative staff take great pleasure in accommodating our patients needs in a courteous and caring manner.
I feel very proud to be part of team at Dermatology SA"
Mandi Newland