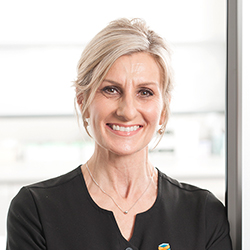 Sue Ebert - Registered Nurse Manager
Profile
Sue Ebert is a graduate of St Andrews Hospital where she successfully completed her General Nursing Certificate in 1983. She has had extensive experience in hospital nursing and in General Practice prior to undertaking specialty dermatology nursing since 2009.
In the past 3 years her position has expanded into the role of Nurse Manager but she remains actively involved with the assistance of surgical and other procedures, patient care and overseeing clinical training of nursing staff.
She strives to deliver and share evidence based practice to provide patients with the most appropriate care, compassion and respect.
Professional development is highly prioritised by Sue in order to further her skills and knowledge and she maintains a membership of the Australian Dermatology Nurses Association.