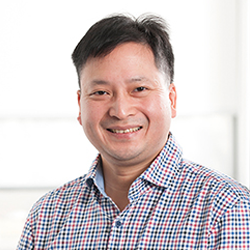 Dr Colin Ooi MBBS (Adel) FACD
Associate, Dermatology SA
Fellow of the Australasian College of Dermatologists
Profile
Dr. Ooi was born in Malaysia, grew up in South Australia and attended medical school at the University of Adelaide, graduating in 1998. He completed his internship and a year as a resident medical officer at the Royal Adelaide Hospital. His initial appointment as a Dermatology Registrar was at the National Skin Centre, Singapore in 2003. This 12 month overseas posting enabled him to gain valuable experience in the recognition and management of skin diseases in Asians. On his return to Adelaide, he worked as a Dermatology Registrar in the major teaching hospitals in South Australia and successfully passed the fellowship exams.
His contributions to the Dermatology literature include published case reports and a chapter on Eczema, co-authored with Professor Goh Chee Leok and Dr Anthony Goon, in "The Asian Skin: A Reference Colour Atlas of Dermatology".
Until recently, Dr. Ooi was affiliated with the department of dermatology at the Royal Adelaide Hospital where he contributed over a ten year period to the teaching of dermatology registrars and medical students in his capacity as Senior Visiting Medical Specialist.
Besides practising general dermatology, he has developed an interest in facial rejuvenation with the use of 532nm vascular laser and the Lumenis M22 Intense Pulsed Light machine.
Dr Ooi consults at Dulwich, Mount Barker and Salisbury.