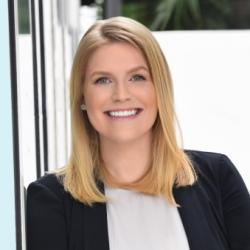 Dr Annabel Stevenson MBBS MMed (Skin Cancer) FACD
-    Dermatologist, Dermatology SA
-    Consultant Dermatologist, Queen Elizabeth Hospital
-    Fellow of the Australasian College of Dermatologists
Profile
Dr Stevenson graduated from the University of Adelaide Medical School in 2011, winning the Australasian College of Dermatologists' Dermatology Prize. She undertook her Dermatology training in South Australia and the Northern Territory.
Since completing her Dermatology training, Dr Stevenson has undertaken further training in paediatric dermatology at the Children's Hospital Colorado and in hair disorders at the University of Miami Hospital, for which she was awarded the F.C. Florance Bequest from the Australasian College of Dermatologists.
She is a published author in peer reviewed academic journals and has recently completed a book chapter on 'Allergy to Hair Cosmetics'. She has also completed a Master of Medicine in Skin Cancer and presented her research at national conferences.
Dr Stevenson enjoys all aspects of dermatology and has a special interest in medical dermatology (eczema, psoriasis, acne, rosacea etc.), hair disorders and paediatric dermatology. She is committed to personalising care to fit her patient's individual needs.
She consults privately at Dulwich and Salisbury Dermatology SA locations.